For Editions and Pricing info click here.
This program is used if you have IIF Files. If you have Excel, CSV or tab delimited then see our TransImporter.
Simple to use. We use the 1, 2, 3 approach. NO MAPPING REQUIRED.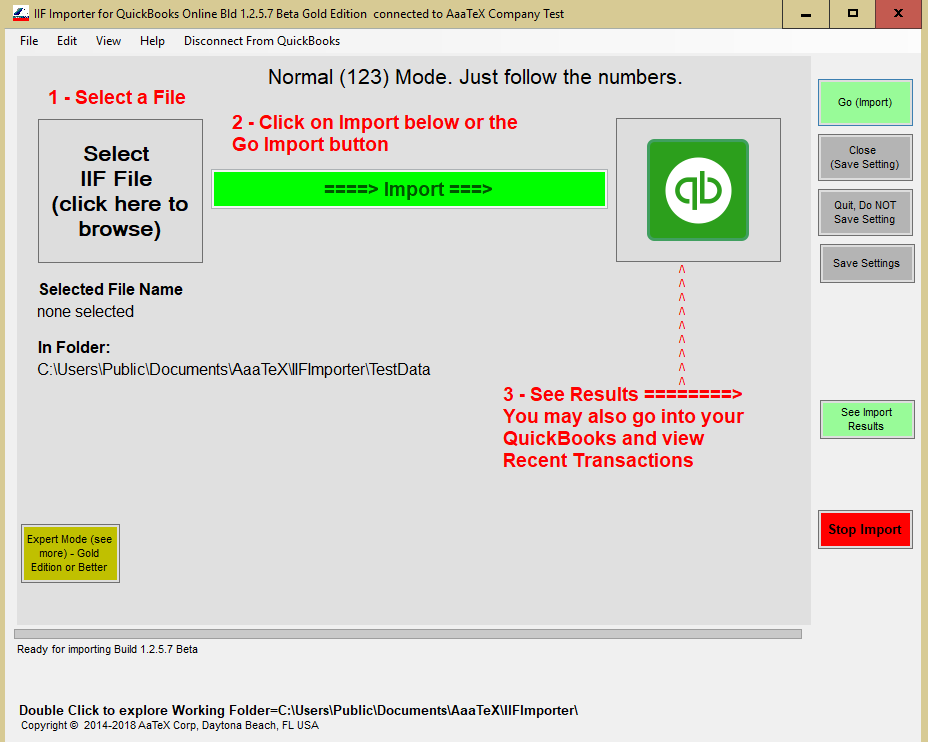 Features (some are only available in the higher editions of the product):
Does not need QuickBooks Admin or Single User Mode in QuickBooks Desktop
(for most transactions)
Uses standard Intuit QuickBooks IIF File format Plus enhancements
Can post payments to invoices
Supports most QuickBooks Functions
Imports multiple files in one exectution
Can import transactions not supported by the QuickBooks IIF import as Sales Orders
Can change the transaction type
Adds items as if not in QuickBooks
Can ignore columns
Provides much better error messages than the QuickBooks Windows Desktop IIF utility.
More like a Keyboard entry than an IIF import
Custom Fields (depending on your edition) on sales transactions in QuickBooks Online for QuickBooks Windows Desktop all supported transactions and lists.
Credit Card info into customer's record.
Import Selected types (i.e. only invoices from a mixed IIF file)
Batch Import (more than 1 IIF file can be imported into QuickBooks in 1 run)
Much more
New Enhanced features not in QuickBooks Desktop IIF utility:
Import QuickBooks Customer's Credit Card Info
Automatically change transaction to Credit if amount is negative.
Auto Apply Customer Invoices to pre-existing Payments (currently only in the IIFImporter2 for QuickBooks Windows Desktop)
Replace Accounts
Change Transaction type (i.e Invoice to Sales Receipt)
QuickBooks Templates Support
Delete, Rename of QuickBooks Lists
Custom Fields on QuickBooks transactions
Payment posting to invoices
Payment posting by amounts
Payment posting to multiple invoices
Much more
We can customize it to solve your business problems.
See Video of how to run the program.
For QuickBooks Desktop Click below to see a YouTube video
For QuickBooks Online the YouTube video below
Requirements:
QuickBooks USA version 2002 Pro or better, Canadian 2005 Pro or Better
Windows 7, 8, 10, 2008, 2012, 2016 (including 64 bits systems).
Same machine requirements as QuickBooks
For QuickBooks Online Internet Explorer 11
Download a free trial or production version below
IIFImporter2 for QuickBooks Windows Desktop

IIFImporter for QuickBooks Online click here to download